The first physically modeled electric bass
The Producer's dream bass
What's new in version 1.5
2 new bass models: Imperial (based on a 6 string Fodera® Custom model); Metal (based on a 5 string Dingwall® Combustion NG2)
6 string feature: all models can now be turned into 6 string basses
Drop A feature: drops the low B String to an A note
Redesigned, more flexible control section
Update is free for all current users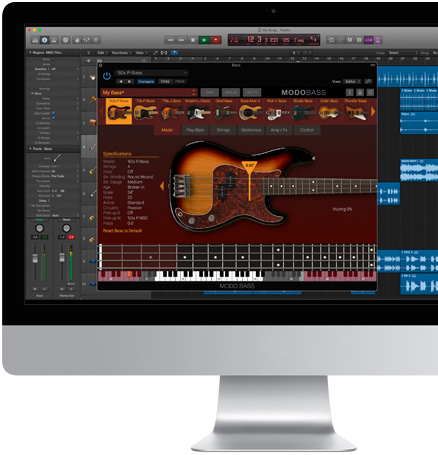 MODO BASS® is the first physically modeled bass virtual instrument that gives you an unprecedented realistic performance for your bass tracks.
As a producer, you want the best possible bass sound you can get… you want realism, credibility and authenticity that delivers the most accurate and inspiring performance. Sometimes you just can't hire the right bass player, and some virtual instruments out there can leave you flat and uninspired.
Enter MODO BASS — the industry's first true physically modeled instrument from the leader in analog modeling technology. 8 years in the making and developed in collaboration with one of Europe's oldest universities, MODO BASS is a completely new breed of instrument that delivers the best of both worlds: the realism and sound of an instrument being played by a master musician and the convenience of a plug-in virtual instrument.
But MODO BASS isn't a virtual instrument by definition, it's a completely new technology that redefines realism from a computer based instrument. MODO BASS is the first technology of its kind that models the entire process of playing bass. Every component that contributes to the unique tonal properties of a bass player playing an instrument has been modeled, and the effects of each component on the other ones — the interactions between each tone variable — has been recreated to give you a dynamic, living breathing and ever-changing performance. You see, traditional virtual instruments are sample-based, meaning that sound is produced by triggering recorded samples of instruments. MODO BASS isn't a sample-based instrument, but rather a completely new technology where sound is generated by recreating the physical properties of a real instrument — everything that makes an instrument create sound is physically modeled and sound is synthesized in real time.
Real Time Sound Synthesis
Unlike traditional sample-based virtual instruments, MODO BASS utilizes a breakthrough technology to breathe life into bass tracks. Unlike traditional sample-based virtual instruments, MODO BASS utilizes modal synthesis technology and an ultra-optimized sound engine to model each string as a nonlinear resonator.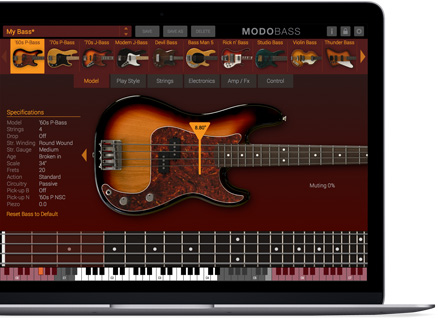 Each string's acoustic behavior is determined by its physical parameters, as well modeling the action of the player as a nonlinear physical interaction with certain areas on the string surface and the interaction of the string with fretboard, body and pick-ups of the instrument. Then using IK's cutting edge analog modeling expertise, the amp and effects rig of the electric bass is added to the sound chain.
All of this gives MODO BASS the ability to create sound in real time based on the construction and components of the bass combined with the player technique, finesse and the ever-changing dynamic interactions between the two. In short, MODO BASS brings — for the first time — ever-changing, hyper-realistic, living-breathing bass sound and performance to the world of virtual instruments. And since it doesn't use samples, MODO BASS has an extremely small memory footprint.
The Details
MODO BASS is a complete synthesis of bass playing and as such it lets you adjust and select virtually every aspect of bass playing. This means that MODO BASS can give you a limitless variety of bass sounds because, just like a real bass player, it gives you a different performance every time. With MODO BASS, you take unprecedented control of every aspect and control of a performance.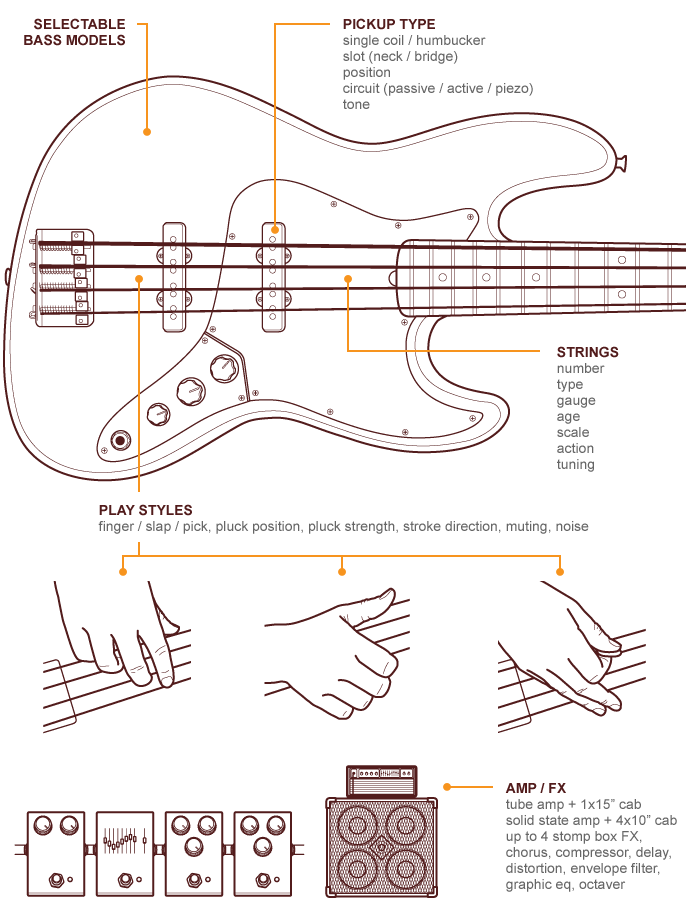 A collection of 14 bass models — 2 new members of the family
MODO BASS gives you 14 iconic basses that span the history of music — 14 basses that define virtually every style and every genre of music recorded with an electric bass.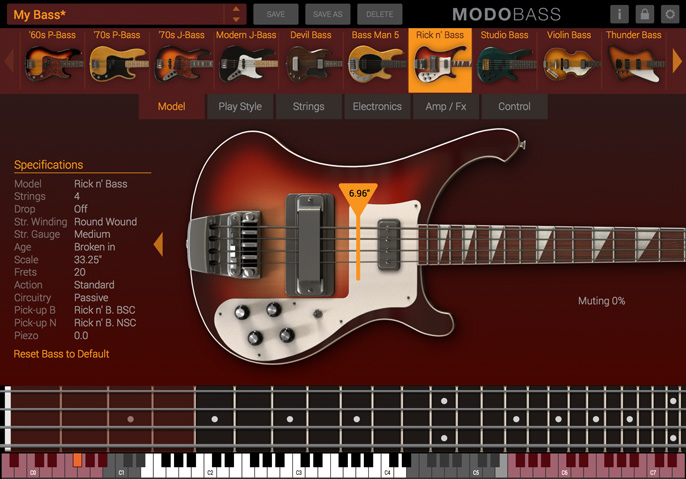 Each bass model was chosen for its particular timbre and wood tone, and every detail of the instrument's performance has been meticulously modeled and recreated.
In MODO BASS 1.5 we introduced two new bass models to give you even more tonal flexibility: Metal (based on a 5 string Dingwall® Combustion NG2) and Imperial (based on a 6 string Fodera® Custom model).
The new "Metal" is particularly suitable for use with the new drop A feature, which allows the lowest note to be tuned from low B to low A, recreating the typical tone loved so much by metalheads. Metal's variable scale reaches a length of 37 inches allowing for a very steady and solid sound which, albeit excellent on its own, can literally blow you out of the water when used with our Ampeg® SVX 2 collection for AmpliTube. Give it a try!
The "Imperial" gives you an expensive, creamy and rich sound that is ideal for funk, pop, latin-pop, fusion, jazz-rock, alt-rock and many more genres for which you might require a very round, resonant bass tone.