Introducing Progressive Black Death Symphonic Sludge Alternative Avant-Garde Drone Extreme Glam Industrial Funeral Groove Djent New Power Gothic Speed Viking… Tone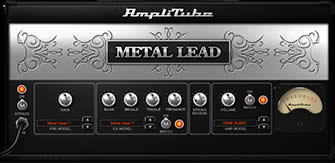 Metal Clean T
Based on Mesa/Boogie® Triple Rectifier™ Green Channel*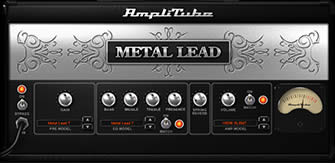 Metal Lead T
Based on Mesa/Boogie® Triple Rectifier™ Red Channel*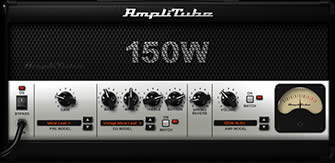 Metal Lead V
Based on Peavey® 5150™ head*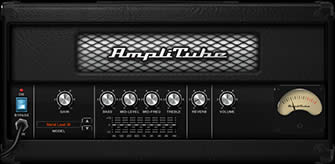 Metal Lead W
Based on Randall® Warhead 300*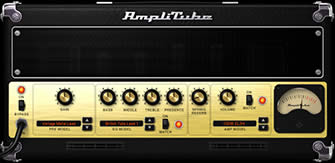 Vintage Metal Lead
Based on Marshall® JMP100™ head*
AmpliTube Metal — the voice of [the] Masters
AmpliTube Metal is THE definitive collection of gear for metal players. It features an insane number of the high-gain dream machines that define the raw power, tone and emotion that is Metal, and a mind-blowing collection of rare vintage and modern stompboxes. From the very first iterations of distorted sound to the ultra-modern triple rectifier multi stage cascading gain structures, you'll find the sound you've been looking for in AmpliTube Metal.
The Right Tools in the Toolbox
Not only is the AmpliTube Metal collection the ultimate source for metal tones… it's also perfect for a multitude of tones ranging from sparkling clean with tons of headroom to extreme scooped distorted crunch that inspired a decade of hits. You get 48 mind-numbing models ranging from modern and vintage high-gain amps and cabinets to classic stompboxes and luscious rack effects — all designed to bring out the inner shredder in you.
AmpliTube Metal offers an ultra-realistic software recreation of 14 stomp boxes, 5 classic and modern amp models, 13 cabinets, 6 mics, and 9 rack FX for a complete arsenal of high-gain sonic exuberance from the late 70's through today. It features extremely rare and collectible models of metal stomp boxes, amp heads and cabinets, from the legendary, hard-to-find Japanese originals to classic British and American essentials, including models based on the ProCo RAT, Electro-Harmonix® Big Muff Pi, Digitech® Whammy™, several vintage BOSS® effects, Randall® Warhead, Peavey® 5150™, Mesa/Boogie® Triple Rectifier®, and other great models of metal gear.
Scalloped Fretboards and Big Hair: These are the Days of our Lives
Metal has come a long way since the 80s, and so has the gear. We're constantly reworking our models to be on the cutting and bleeding edge of edginess — a dangerous and exciting place to be. With the AmpliTube Custom Shop feature that's built into AmpliTube Metal, you can get the absolute latest gear models to add to your rig, and do it whenever the inspiration hits you. Add one piece at a time from today's top manufacturers of gear like Orange®, Soldano®, Jet City®, Fender®, Ampeg®, T-Rex®, Seymour Duncan® and more.